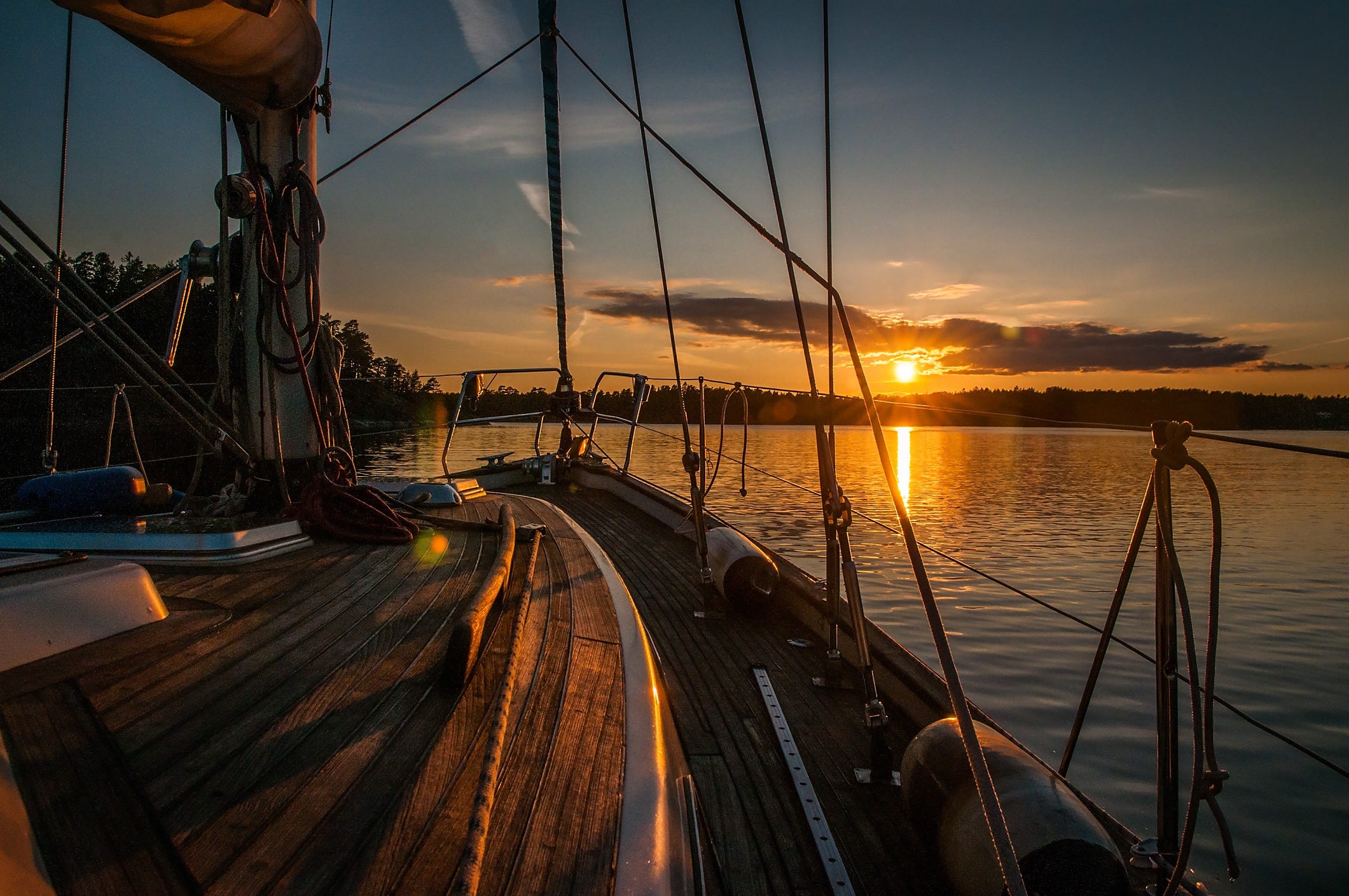 S/Y VIRIBUS UNITIS
The S/Y Viribus Unitis was built in 1980 at the renowned Najad-varvet shipyard on the island of Orust, Sweden. As the number 3 in a series of just some 40 boats, she was a special order that made her different from other Najad 37 yachts. With the galley moved to the port-side space was created for a further single cabin, which for our use has proved to be of great value. This very fact makes it possible to accommodate five guests in two cabins and still have privacy for the skipper.
The yards philosophy was to build a ship that safely can take you to any place on this globe in any weather condition that can reasonably be foreseen. As a matter of fact the Najad 37 is the only Swedish built yacht ever to be certified for worldwide ocean standards by Lloyds register of shipping! Just as a comparison - the Viribus Unitis displacement is 12 tons, compared to modern constructions which displace less than half. Most of that weight is due to sturdy and heavy-duty construction and a big load of lead in the keel which will make her stable under any condition.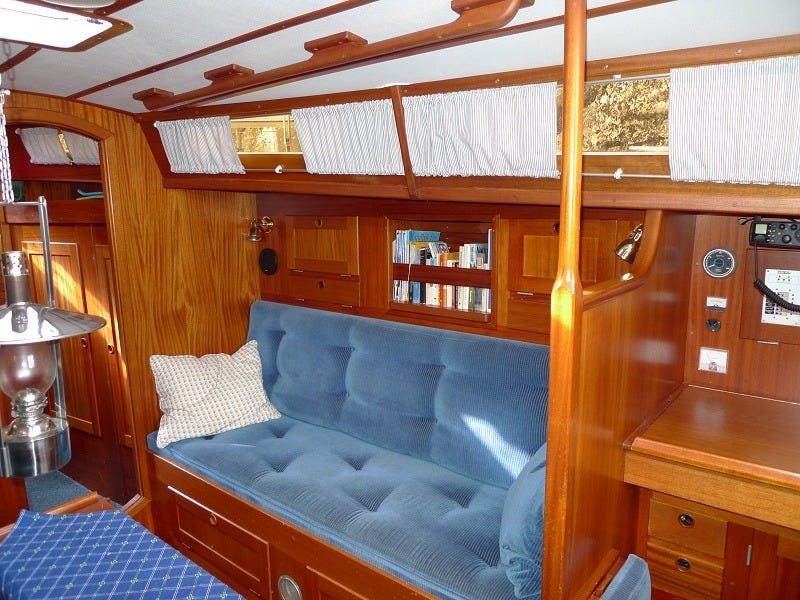 During the years she has been upgraded and after we bought her in 2013 a major renovation took place when we replaced the old engine, gas and cooking installations, big parts of the freshwater systems, navigational equipment including new state-of-the-art autopilot and AIS transponder.

Also a completely new cockpit tent was added and in 2017 all lighting was replaced with high quality LED's to make the stay comfortable also without the convenience of land-based power supply. In the spring of 2018 she was reclassified from leisure craft to commercial passenger ship which also motivated a further upgrade in safety standards and added an inflatable life raft and radar reflectors to the existing equipment.


Ever since we bought her we do our very best to keep her in mint-condition and smaller upgrades are going on all the time.
The layout of the Viribus Units suits up to foe guests if they don't mind sleeping in double berths. In the front there is one double cabin, in the rear a three-bed cabin and amidships another singe cabin can be found (For shorter turns accommodation can be arranged for another three persons in the saloon but to be honest, this will make the ship feel a bit crowded!). There is a spacious head, saloon which seats at least seven, navigational area with chart table and a well equipped galley with stove and fridge. Showering with warm water can only take place outdoors on deck (but most harbours have comfortable showering facilities). Plenty of lockers provide storing space for your personal belongings.
Fact box:
Name: S/Y Viribus Unitis
Home port: Ingarö Lugnets båtklubb, Ingarö, Sweden
Model: Najad 37
Construction year: 1980
Shipyard: Najadvarvet, Orust, Sweden
Length: 11,35 m (37 feet)
Beam: 3,50 m
Draught: 1,85 m
Displacement: 12 tons
Beds: 6 (9 if accommodation in the saloon is included)
Sail area (standard): 65 m2
Engine: 2014 Yanmar 4JH5E, 4-cylinder, 2.5L, diesel, 54 hp.
Navigational equipment: GPS plotter, autopilot, AIS, Navtex receiver, dual VHF radios, depth sounder, wind instrument, mechanical log and compass.
Safety equipment: Life belts for everyone on board, life preserver with heaving line, inflatable life raft, emergency flares, emergency VHF transmitter, radar reflectors and much more.
P.S.
Did you know that the ships name, "Viribus Unitis" ...
... means "with united forces" in Latin?
... was the personal motto of emperor Franz-Joseph II and resembled the strength of the double monarchy of Austria-Hungary?
... also was given to the flagship of the Austro-Hungarian navy in WWI?
... was chosen by us since Thomas is from Sweden and Helga comes from Austria and we, so to say, have our own "double-monarchy"?
... also was chosen since "with united forces" is the way we run our businesses, life in general and that also is the way we think that you always should be sailing?
P.P.S.
You can always spot and track us by using www.marinetraffic.com and search for the vessel "Viribus Unitis"!